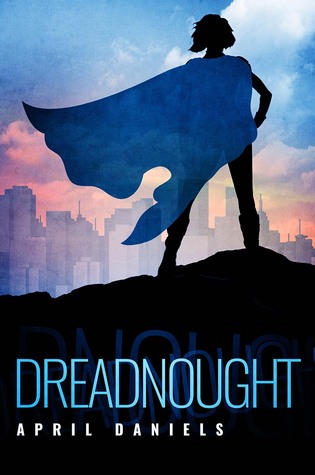 Rating: 4/5 Stars
Series: Nemesis, #1
Length: 276 Pages
Purchase: [Amazon] | [Barnes & Noble]
Thank You Diversion Books and NetGalley for giving an eARC for an honest review.
Synopsis:
Danny Tozer has a problem: she just inherited the powers of the world's greatest superhero. Until Dreadnought fell out of the sky and died right in front of her, she was trying to keep people from finding out she's transgender. But then her second-hand superpowers transformed her body into what she's always thought it should be. Now there's no hiding that she's a girl.
It should be the happiest time of her life, but between her father's dangerous obsession with curing her girlhood, her best friend suddenly acting like he's entitled to date her, and the classmate who is secretly a masked vigilante, Danny's first weeks living in a body that fits her are more difficult and complicated than she could have imagined.
She doesn't have much time to adjust. Dreadnought's murderer, a cyborg named Utopia, still haunts the streets of New Port City. If Danny can't sort through the confusion of coming out, master her powers, and stop Utopia in time, humanity faces extinction.
______________________________________________________________________
"My name is Danielle Tozer. I am a girl. No one is strong enough to take that from me anymore."
In this coming of age tale, Danny's dream comes true when a powerful hero, Dreadnought, passes his mantle onto her before his untimely death, therefore making Danny the girl she's always dreamed of being.
I am always one for hero tales. They always stand out for me for some reason. When this story came forward to me, I was a drawn in by the cover only. A super hero tale, with a female main protagonist? I had to read it. When I read over the synopsis, I knew story this was going to be different. I have never read a story that involved a transgender person and I was curious of how this was going to be different than other stories involving heroes and powers. This story is also an #OwnVoices story, which is also a first for me.
In this world, there are heroes everywhere and they have been around for hundreds of years. They call these heroes Capes. The good heroes are called the White Capes, and the evil villains are called the Black Capes. There are Gray Capes as well, and these are the heroes that like to bend the rules (mostly towards the greater good). The Legion Pacifica Team, the main group of heroes in the story, are White Capes. The cyborg villain, Utopia, is the ultimate Black Cape. Danny wants to help the greater good, but struggle if she wants to be an official White Cape.
If you thought this was going to be tale of everything going smoothly for the main protagonist, think otherwise. Everything was not as easy for Danny as she would have liked it to be. She had to keep being a girl a secret from everyone, especially her father, who is the manly man type of guy. After receiving the mantle and the transformation, Danny's father views her new transformation as an illness and keeps promising her to find a "cure" to fix her. As Danny's father tries to find a cure, their relationship struggles more as her father's transphobia shows more in the form of disrespect and transphobic slurs. Danny really wants to stay her true self, but her father wants none it. Even one of the heroes in the story still calls her a boy on purpose and offers no support.
In this story, you really get to know Danny and you can't help but love this character. I found myself supporting this character throughout the entire journey she had. I wanted nothing but the best for her and I was glad to see that she formed a new friendship through Calamity, a Gray Cape. Their friendship was one for the story and was exactly what Danny needs for everything she struggled with.
The only suggestion I had was there were areas that could have used a little more information, world building the most. We did learn the history of the superheroes and where they came from, but we could of used a little more world building for the current day.
There is nothing I can do, but to recommend this book to everyone. I can't wait to see what else happens in Danny's journey (ever since that ending happened) and to hope the best for her. This has definitely opened my eyes and I hope to find more #OwnVoices and read more of them.